'Supermoon' Visible This Weekend

Card:
$
2
.39
Print:
from

$

17

.10
'Supermoon' Visible This Weekend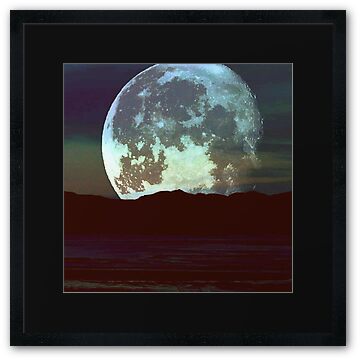 I see a face..look off to the right side…
'Supermoon' Visible This Weekend
SUPERMOON SATURDAY
On March 19, the moon will swing around Earth more closely than it has in the past 18 years, lighting up the night sky from just 221,567 miles (356,577 kilometers) away. On top of that, it will be full. And one astrologer believes it could inflict massive damage on the planet.
Not only will the moon be full, it will be especially bright.
The so-called "supermoon" occurs when a new or full moon is in its closest orbit to our planet. On Saturday the moon will be 356,577 kilometers away, the closest it's been in 18 years.
"The moon will be a little closer than it was last year, 1/4000 of a percent closer,"
Astrologer Richard Nolle, who coined the term "supermoon" in the 1970s, warns of a "supermoon risk window" from March 16-22, saying there will be an increase in tidal surges and earthquakes. But scientists dispute that vehemently, and say the Japan earthquake had nothing to do with the supermoon.