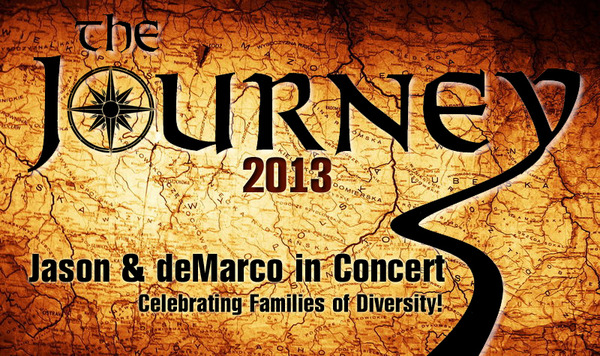 Featuring their twin sons Mason and Noah and Jason's parents, Bob and Karen

Greetings! Beginning Friday, February 1, 2013 Jason & deMarco will embark on 'Jason & deMarco in Concert: The Journey - Celebrating Families of Diversity', a 35-day, 24-city Southwest and West coast U.S. concert tour. The duo will be traveling with their one and a half year old twin sons, Mason and Noah, and Jason's parents, Bob and Karen. The family will stop along the way at various venues and events, sharing their story during a time of inspiring music, presentations and Q&A.
Jason will also be promoting his newly-released book, "The Journey of Same Sex Surrogacy – Achieving Our Ultimate Joy", which will be available for purchase, along with CDs and other J&D merchandise. Jason's mother,
Karen, will be joining the duo in concert as a special guest, along with other surprise guest artists. Jason's parents will also both participate in the time of Q&A.
The shows will be open to the community at large and all performances and events will be offered on a donation basis. Jason & deMarco encourage all GLBT families and allies to come out and show their support for families of diversity. "This is a time for the nation to see that families of diversity, both chosen and biological, are everywhere in our communities and are to be celebrated", says Jason & deMarco.
The remaining open dates are being booked on a first-come, first-serve basis. If you want Jason & deMarco to stop in your city and it is listed on the schedule below, please contact

artistrelations@rjnmusic.com

to see if your city is still available.
In addition, if you or any of your spiritual community would like to contribute financially to the tour, you can do so by visiting www.jasonanddemarco.com.

Thank you for your support and we look forward to hearing from you and hopefully seeing you in the New Year!
PROJECTED TOUR SCHEDULE:





1-Feb

Houston, TX

2-Feb

Austin, TX

3-Feb

San Antonio, TX

4-Feb

El Paso, TX

5-Feb

Tuscon, AZ

6-Feb

Phoenix, AZ

7-Feb

San Diego, CA

8-Feb

San Diego, CA

9-Feb

Long Beach, CA

10-Feb

Los Angeles, CA

11-Feb

Los Angeles, CA

12-Feb

Los Angeles, CA

13-Feb

Los Angeles, CA

14-Feb

Bakersfield, CA

15-Feb

Fresno, CA

16-Feb

San Jose, CA

17-Feb

San Francisco, CA

18-Feb

San Francisco, CA

20-Feb

Stockton, CA

21-Feb

Sacramento, CA

22-Feb

Reno, NV

23-Feb

Salt Lake City, NV

24-Feb

Salt Lake City, NV

25-Feb

Las Vegas, NV

26-Feb

Las Vegas, NV

27-Feb

Las Vegas, NV

28-Feb

Albuquerque, NM

1-Mar

Albuquerque, NM

2-Mar

Amarillo, TX

3-Mar

Lubbock, TX

4-Mar

Abilene, TX

5-Mar

Dallas

6-Mar

Dallas


For booking inquiries, email:

artistrelations@rjnmusic.com


Website: www.jasonanddemarco.com


































NEWS !

"Reconciled" E-Book Released by Jason Warner
Many of you have read Jason's blog "Reconciled" over the years. This blog was a letter Jason had written and compiled over the years that would be given to those who questioned him, "How can you say that you are gay and Christian"?

We are excited to announce that Jason released "Reconciled" on Amazon Kindle last month. You can order it through Amazon.com, and if you don't have a kindle, you can download a Kindle app on your computer or mobile device and still read the book. (YOU DO NOT HAVE TO HAVE A KINDLE TO ORDER THE BOOK). The book is $8.99 and is a great resource to those who may be questioning or desire a quick resource or reference guide to give to loved ones.
To order the book,

CLICK HERE
TRANSFORM YOUR BODY ! TRANSFORM YOUR HEALTH ! TRANSFORM YOUR LIFE !!
90-Day Group IsaBody Challenge
Starts Sept 10, 2012 - JOIN US !
A Personal Invitation from deMarco:
As many of you know, while Jason & I continue to tour in music, for the last 3 years we've also been representing an incredible company called Isagenix. In our travels we've found that for as many people as we've met over the years that are soul-searching, there are even more people suffering silently with their health. We've had the good fortune to realize early on in life that without our health, we have nothing. After being introduced to this company's products over 3 years ago from a friend that we trust and respect, and after having our own life-changing powerful personal experience in the first 30 days, we decided to step into the opportunity more fully and are on a campaign to help others get back in control of their health and even finances. This is truly one of the most rewarding things we've ever done.
Many of you are sick and tired of being sick and tired and want to make a change, you just don't know how or what to do. We are laying before you an incredible opportunity to join us for the next 90 days by being part of a supportive group of people that makes things happen and help you create the health that your heart desires.
The action steps are simple:
1. Decide to Succeed (register for FREE, upload beginning photos and measurements).
2. Use the Isagenix Products (they replace groceries and will set you up for success).
3. Plug in and Be Unstoppable (weekly coaching call and private FB group).
4. Win Cash, Products, Cruises ($200,000 worth of prizes and the Health You Deserve).
Email me today at

demarcogenix@gmail.com

for more info. Only 10 days left !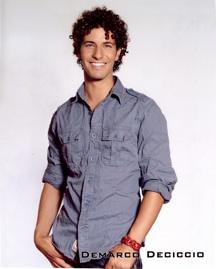 "If you choose not to invest in your health, can you afford illness?" - Les Brown