Rutgers Webcam Spying Trial Opens By Excusing Juror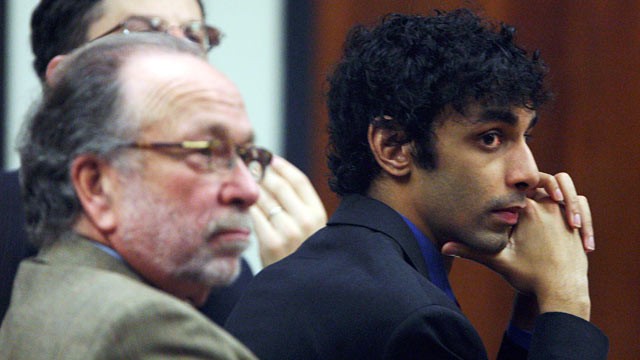 Accused Rutgers student Dahrun Ravi appeared in court today for the first time on charges that he videotaped and broadcast his roommate, Tyler Clementi, having a sexual encounter with a man just days before Clementi killed himself.
The trial began with the judge excusing one of the 16 jurors, reducing the panel to 15. The judge said only that the juror, identified as Mr. Alvarado, had "learned he had to amend an answer to a questionnaire... That's all I have to say."
Following opening statements by both sides, the prosecution is expected to begin the trial by calling seven witnesses.
Ravi was dressed in a dark suit and occasionally fingered the knot in his tie during the early moments of the trial. He followed the sidebar that preceded the judge excusing the juror by listening intently in on earphones.
He is charged with invasion of privacy, bias intimidation, witness tampering, and hindering arrest.
The charges stem from a series of webcam-recorded moments that Ravi covertly took of his roommate, Clementi, having sexual encounters with another man in their shared dorm room in September 2010.
In the days leading up to Clementi's suicidal leap off the George Washington Bridge, Ravi had twice shared with another computer via webcam the sexual encounters, and shared the webcast with friends. He also made remarks on social networking sites referring to his roommate's gay encounter.
The chain of events set off by the webcast--including postings on social media, complaints to Rutgers administrators, and finally Clementi's suicide--became the focal point of a national campaign to stop cyber-bullying and homophobic bullying among students.
"Pressure from gay rights groups, and global media attention made this case one that had to be prosecuted," former New Jersey prosecutor Robert Honecker told ABC News. "Yet the charges themselves are very difficult to prove."
Ravi, now 19, faces up to 10 years in state prison if he is convicted on all the counts.
He rejected a plea deal in December that would have allowed him to serve no jail time, but require him to perform 600 hours of community service and receive counseling. The state also assured Ravi, an Indian citizen, they would recommend to immigration officials that he not be deported.
"The fact that the prosecution offered this plea deal in the first place indicates that they are worried that they might have a tough time in court," said John Fahy, another former New Jersey prosecutor familiar with the case.
"Simple answer, simple principal. He's innocent. He's not guilty," defense attorney Steven Altman said. "That's why he rejected the plea."
The Middlesex County Prosecutor's Office has declined to comment on any aspect of the case.
Fahy says the trial boils down to a jury having to determine whether Ravi is "a malicious homophobe," as prosecutors contend, or merely "a dopey prankster," as his lawyer will likely portray him.